Updated 12/1/2020
Capt. Robert M. Toth
Robert M. Toth, 76, of Brighton Twp., passed away Friday, November 20, 2020, at Heritage Valley, Beaver.
Born April 6, 1944, in Pittsburgh, he was a proud veteran of the U.S. Navy, having been a lifetime member of the Vietnam Veterans of America, and an active member of the American Legion Chapter 481, Midland, where he served in the American Legion Honor Guard. Robert worked for over 40 years in the airline industry, having started his career with Eastern Airlines, and ending with USAirways. Upon his retirement, he and his wife Jacqueline loved being Florida "snowbirds." He was a faithful member of the United Methodist Church of Beaver.
Robert will be greatly missed by his wife of 55 years, Jacqueline Toth, Brighton Twp.; son, Shawn Toth, Ohioville; daughter, Tara Toth McKay, Fallston; one sister, Shirley (Sherwin) Houser, Pittsburgh; along with grandchildren, Jesse, Shannon, Travis, Jacob, Andrew, and Cody. Robert was happily awaiting his first great-grandson due in December.
He was preceded in death by his brother, Joseph Toth.
Friends will be received Monday, November 23, 2020, from 2 p.m. until 4 p.m. and 6 p.m. until 8 p.m. in the NOLL FUNERAL HOME INC., 333 Third St., Beaver, where a funeral service will be conducted Tuesday, November 24, 2020, at 11 a.m. Online condolences may be shared at nollfuneral.com.
Updated 11/30/2020
Capt. Larry Carl Niebanck
On Thursday, October 29, 2020, Larry Niebanck, a loving husband and father of two, passed away at the age of 81. Larry was born and raised in Rockville Centre, New York.
After receiving his degree from SUNY- Farmingdale, he was accepted into Officer's Candidate School in Pensacola, FL., where he received his Naval Aviator Wings. He flew the P3-Orion with Squadron VP8 for 5 years.
After leaving the Navy, he began his commercial airline career with Mohawk Airlines in '63 and retired from USAir after 32 years.
He was an avid reader of history, a builder of model planes and he always played the piano to complete the day.
Larry is survived by his wife Dottie of 56 years, son Jim, and wife Donna of Chatham, NJ, daughter Karen and son-in-law Scott of Merritt Island, FL., 6 grandchildren, Maddi, Charlie, Bridget, Alex, Matthew and Noah, his brother Bruce of Mississippi.
If you wish, please honor the Wounded Warriors Project in Larry's name.
Updated 10/22/2020
Gail Boyd
Life Member Gail Boyd passed away Oct. 20, 2020 in West Palm Beach, FL. Gail had sustained injuries in a fall about a month before and apparently was never able to recover. The information at this time is very sketchy, and when we have a complete obituary, we will post it.
Updated 9/25/2020
Captain Wayne Coburn "Coby" Johnson
Wayne "Coby" Johnson 71, passed away Sunday, September 20 ,2020 at Lower Cape Fear Life Care Center. Coby was born January 18, 1949 in Cleveland, Ohio to Wayne C and Cynthia Cook Johnson who predeceased him.
Coby's life was filled with aviation. His first flying lesson was at age 12 in Chardon, Ohio. He received a private license while studying at Kenyon College in 1970 where he studied Psychology. He joined the Air Force Reserve in November 1971 at Rickenbacker AFB, Columbus, Ohio where he flew Reserve C-123s, C-130's and C-141s at Rickenbacker, Westover and Andrews AFB respectively. He also flew C123 and C130 missions world wide in support of 2nd Air Delivery Group in SE Asia during Vietnam and the USAF Southern Command based in Panama and Central America.
In May, 1986 Coby Joined Piedmont Airlines which eventually became US Airways Airlines, retiring as a Captain in 2004. He flew B-737s, B-757s, B-767s totaling over 18000+ career flying hours. Coby was employed by The FAA before and after his airline career working in the FAA's NY Air Carrier District Office and Eastern Region from 1979-1985 and at FAA Washington Headquarters from 2004 until his retirement in January 2016.
He is survived by his wife Mary Johnson; his son Chris Johnson, spouse Shannon, grandchildren Adam and Ryan. Daughter Courtney O'Brien, spouse Andrew, grandchildren Emma, Lillian and Abigail. Brother Jeffery Johnson, sister Suzanne Robinson and their spouses. A Memorial to celebrate his life will be held at a future date.
Please share memories and condolences with the family by clicking on the "Post a Condolence" tab below. Wilmington Funeral & Cremation 525 Village Road, Leland NC 28451 910.383.3511
www.wilmingtoncares.com/obituary/wayne-coby-johnson/
Updated 8/2/2020
Captain John W "Jack" Crouse, Jr.
John W, (Jack) Crouse, Jr., 84, of Log Road, Smithfield, died July 22, 2020 in RI Hospital, Providence. He was the husband of Janice (Barnes) Crouse. They had been married for almost 60 years. Born in East Providence, the son of the late John W. Crouse, Sr. and Anna Elizabeth (Moriarty.) He had lived in Smithfield for 47 years previously living in Johnston.
Jack always had a passion for flying. As a teenager, he joined the Civil Air Patrol. In November, 1956, then attached to the 143rd RIANG, he was admitted to the Air Force pilot training program, from which he was graduated, with class 58-J, as a 2nd Lieutenant in March 1958. He returned to Rhode Island where he was a member of the 143rd Special Operations Group (RIANG), retiring in December 1972 as a Major. He spent a number of the following years attached with the AF Reserves. In March of 1962, he was hired by Mohawk Airlines, later to be absorbed by Allegheny Airlines and and then renamed USAIR where he retired in May 1996 after 34 years. Jack was a member of several pilot organizations: RIPA, RIQB, and Soaring Eagles and also the S.C.R.G. club.
Besides his wife he leaves his children, John W. Crouse III of Smithfield, fiancee, Denise Benetti, Lee-Anne Albanese and her husband Gene of Pascoag and Lynne Driscoll and her husband Mark of Exeter. He was the grandfather of Jennifer E. Kaprielian and her husband Jeffrey R., Matthew J. Allin, Kyleigh A. Driscoll and Conor A. Driscoll. He was the great-grandfather of Logan A. Kaprielian. He was the brother of Thomas R. Crouse (Angela) of Cranston and the late James F. Crouse (Barbara) of Michigan. Visition Wednesday, July 29, 2020 4-7pm in the Anderson-Winfield Funeral Home, Route 44 at Greenville Common, Greenville. Due to COVID 19, all attendees will be required to wear a mask for visitation and to please remember to practice Social Distancing.
In lieu of flowers, donations in his memory may be made to Operation Stand Down, 1010 Hartford Avenue, Unit 1, Johnston, RI 02929.
Because of the virus restraints, burial will be private. For condolences please visit
www.andersonwinfield.net
Updated 7/30/2020
Captain Richard Patrick "Dick" Mahoney
U.S. Veteran Richard Patrick Mahoney, a resident of Mooresville, North Carolina, passed away July 14, 2020 at age 81. He was born in Patterson New Jersey March 3, 1939, and moved to Toms River, the Jersey shore, during high school and college years. Attended University of Delaware for 3 years until a Navy recruiter inspired him to become a Navy pilot. He earned his wings and became an Ensign in the US Navy. He flew P-2Vs, stationed in Brunswick, Maine and Virginia on active duty. He transitioned to the Navy Reserves and transferred to Point Magoo, California then retired as a Captain in El Toro after 26 years of service. Early on in his Navy career while in Corpus Christi, Texas, he met his beautiful wife, Patricia Connelly. Years later he was proud to commission his daughter as an Ensign in the US Navy after her graduation from college.
When he transferred to the Navy Reserves, he became a commercial pilot with Continental Airlines and moved his family to Huntington Beach, California. After 15 years, he move onto USAirways and flew another 15 years before retiring at 60 years old in Cornelius, North Carolina, in 1999. During retirement he was actively involved with Habitat for Humanity and traveled to Guatemala 10 different times to help build homes. He was also an active member of Saint Mark's Catholic Church in Huntersville, NC and the Knights of Columbus.
He cherished his time with his daughters during family trips. There were skiing trips to Mammoth, and Lake Tahoe, California and throughout Colorado. There were many backpacking trips with the Girl Scouts ending with a trip to Yosemite, conquering Half Dome. Most recently, the family ventured out to Whitefish Montana for white water rafting and fishing derbies.
He is survived by his wife of 55 years, Patricia Connelly Mahoney, and daughters Eileen Mahoney, Erin Mahoney Thompson, Katie Hagmann and Meghan Orlik, and 5 grandkids.
Services will be held Monday, July 20 at Saint Mark's in Huntersville. There will be a viewing at 10:15 am followed by a mass at 11:00.
Address: 14740 Stumptown Rd, Huntersville, NC 28078
www.raymerf.com
Donations in Captain Mahoney's honor can be made to:
Levine & Dickson
Hospice House
11900 Vanstory Dr.
Huntersville, NC 28078
Captain Ronald "Ronnie" Howell
Posted 7/12/2020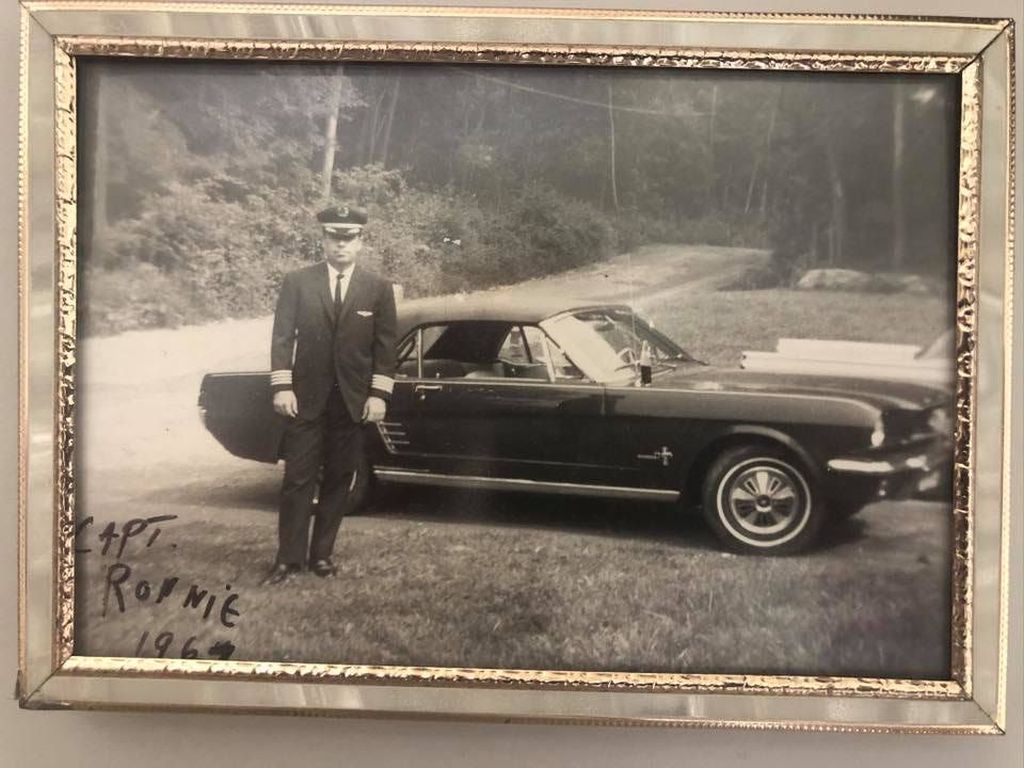 So dad went West sometime in the last week or two....I hear it already....what do you mean sometime. Don't you know the date? Ahhh, that's the gotcha, days on a calendar are just that..no dad counted moments. Hey Brant remember the moment we set the carriage stone in front of the fireplace...yeah I remember it like yesterday...or hey Brant remember the moment we were putting up the Tarzan swing and we all did the Tarzan cry and beat on our chests...yeah like yesterday. My life is full of those moments. And that is what's so wonderful about this gift of life we have been given..... moments in time are our currency ...collect as many as you can...after all they are free, cherish them like gold.Brant Howell
'OBITUARY FOR CAPTAIN LOUIS ROBERT NELSON SR.'
Posted 6/30/2020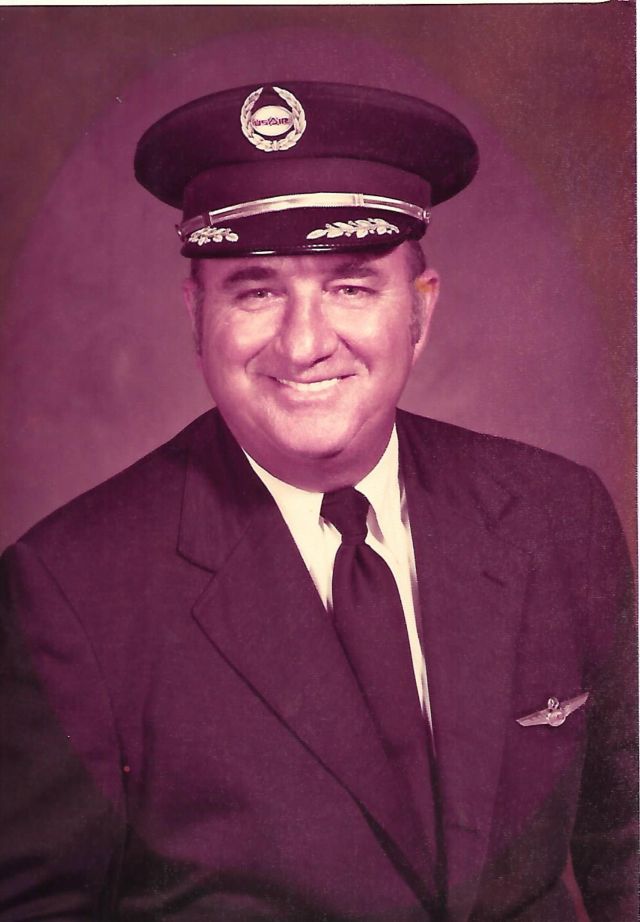 Captain Louis Robert Nelson Sr. passed away June 13, 2020 after suffering a heart attack at the hospital in Clearwater, Florida. Louis was the second of five children born October 16, 1930 to Jennes C. Nelson Sr. and Mildred Inez (Farrell) Nelson in Ripley, Maryland. After graduating from LaPlata High School in 1948, Louis spent two years in the United States Air Force, then eight years in the Air National Guard as a senior aircraft mechanic, then eight years in the U.S. Army Corps of Engineers Reserves. From there he became an airline pilot with Allegany Airlines in 1960 that became USAir that became USAirways and now American Airlines during his 25-year career retiring as a Captain. He married Eleanor Phillips in 1953 and had two sons, Louis Robert (Bob) Nelson Jr. and John Dashiel Nelson. In 1975 he married Carol Griffith. Prior to retirement, he went through three different motor homes driving all over the United States, Canada and Mexico. Upon retirement, Louis and Carol moved to the Florida Keys where he had many years enjoying his love of the water with boating, fishing and scuba diving going through three different boats on this journey. After Hurricane Irma wiped out their home on the Keys, Louis and Carol relocated on the West Coast in Seminole, Florida. Louis was preceded in death by his parents, his first wife Eleanor Phillips and his brother Jennes. He is survived by his wife, Carol, his sons Bob and John, stepson Brigadier General Scott F. "Rock" Donahue (U.S. Army, Retired) and his wife Nancy; step grandson Major Eric Donahue and his wife Major Claudia Donahue and their children Teddy, Julian and Scotty; step granddaughter Jenna and her husband Major Leo Pacheco and their children Ryan, Addison and Sophie; step-granddaughter Taylor Donahue and her daughter Mya; step-granddaughter Morgan Donahue and her husband John and their son Beau; daughter-in-law Carolyn; grandchildren Louis R. Nelson III and his wife Cindy and their children Louis R. Nelson IV, Jack and Josie; Kimberly and her husband Robert Depaulo Jr. and their children Tripp, Brio and Luca; Bethany and her son Seamus; step granddaughter Armanda and her husband Richie Woodard and their children Tristan, Liam and Scarlet; step grandson Chris Hoyle and his wife Alexie Ferre and their children Miles and Soreen; his sister Betty and her husband Michael Ellis; his brother Harold and his wife Caroline and his brother Francis Nelson. And his beloved "daughter" Inga Upshaw and her husband Bill. Many nieces and nephews. Louis served in the choir in his younger days at the Lutheran church of Our Savior, a congregation help started by his grandparents who emigrated from Denmark in the mid 1800's and continued to attend anytime he returned to the area to visit family. A celebration of life will be held at the Lutheran Church of Our Savior in Bryans Road, Maryland on June 24, 2020 with a viewing from 10 to 11 a.m., the service at 11 a.m., the burial at Mount Rest Cemetery in LaPlata, Maryland. If desired, memorial donations may be made to:
The Lutheran Church of Our Savior
7365 Indian Head Highway
Bryans road, MD 20616
Posted 6/14/2020
Captain Thomas Sierer:
It is always difficult saying goodbye to someone we love and cherish. Family and friends must say goodbye to their beloved Thomas Allen Sierer (Titusville, Florida), who passed away at the age of 76, on June 11, 2020. You can light a candle in honor of Thomas Allen Sierer.
Posted 6/14/2020
Captain Danny B. Hamby:
Danny B. Hamby passed into eternal life June 10, 2020.
He leaves behind his beloved wife, Sally and four children, Monique (Dave), Paulette, Nicole (Steve) and Scott (Debbie) from his former wife, Sharon Hamby, 10 grandchildren and 3 great grandchildren. He also leaves behind his brother John Hamby (Phylis) of Texas.
Born in Beaumont TX in 1942, joined the Air Force in 1960, followed by a career as a pilot and check-airman with USAirways, retired in 2000, after which he flew the Orlando Magic for 8 years.
He had a very full active life, traveling the globe from Australia to China and everywhere in between. His passion was golf and was fortunate to be able to play world-famous courses. No services are planned at this time.
Posted 6/12/2020
Captain Nevin Remaley:
Captain Nevin Earl Remaley, 94, of Florida, formerly of Lehighton passed away June 2nd in Edgewater Florida. Born in Lehighton, he was a son of the late Lee & Dora (Shafer) Remaley. He served our country with the US Navy during WW II and later worked for USAir as a pilot and was very grateful to the Arner family (Lehighton) for aviation instruction. He was predeceased by a sister Fern Boyer & a brother, Russell. Nevin stated that mandatory retirement from aviation piloting was the worst day of his life. He regretted not marrying & having children but he enjoyed all the friends he made in the local community especially at The Normal Square Inn. Nevin was a member of The Lehighton American Legion Post 314, Zion UCC, and The Soaring Eagles. Funeral services & Interment will be private at the convenience of the family. Memorial Contributions may be made to The Lehighton Boys & Girls Band: The Nevin E. Remaley Music Scholarship Fund. Online condolences can be offered at www.ovsakfh.com
Posted 5/15/2020
Captain Charles H. "Charlie" Hoffman:
Charles Henry Hoffman, Jr., 79, of Severna Park, passed away on May 11, 2020 at his home, following a lengthy illness. Charles was born to the late Charles H. Hoffman, Sr. and Dorothy Hoffman on July 5, 1940 in Mount Kisco, NY, where he was raised. He graduated from the University of Miami then served in the U.S. Airforce from 1957-1961. He then attended Burnside-Ott Aviation Training Center for flight school. Charles began his flight career with Mohawk Airlines which eventually became USAir. His career spanned over 33 years retiring as Captain from US Airways in 2000. In 1985, he married Barbara J. (nee Schrage) and this past October they celebrated 34 years together. In 2001, he started his own construction company, Alexis Building Construction, in Severna Park from 2001-2005. In 2006, Charles suffered severe injuries in a private plane crash and battled a challenging recovery. Charles spent his leisure time watching baseball. He is survived by his wife Barbara; three sons Robert, George and Douglas Hoffman; one daughter Alexis Hoffman; three grandchildren; and six great-grandchildren. A memorable gathering may be held at a later date. Online condolences may be made at: www.barrancofuneralhome.com
Good guy always had a smile on his face when he greeted you. R.I. P.
Posted 1/29/2020
Captain Ed O'Brien:
Ed O'Brien passed away October 31, 2019. He had taken a bad fall a few months earlier and fractured his neck. After several hospitalizations and rehab attempts, he finally had a massive stroke.
Ed began his professional career as a Naval Aviator. He flew for Braniff 1967-1982 then went on to Piedmont and USAir before his age 60 retirement in 1996. Ed lost his wife, Pat, around 10 years ago and had been living in Encinitas, CA just north of San Diego. Ed and Pat had three children, Beckie Holmes, Michael and Thom. He was 83 years old when he passed away.
In accordance with Ed's wishes, he was cremated and there was no obituary or formal service. The family had a private ceremony in December where they scattered his ashes in the San Diego harbor.
Posted 1/9/2020
Captain Don Greenfield:
Don Greenfield, at 83 years of age, entered Heaven's Gates on the morning of Wednesday, January 8, 2020. He was born in Pontiac, Illinois on Sunday, May 3, 1936. Don proudly served in both the United States Marine Corp and the Navy, discharging as a Navy Lieutenant.
He found his calling as a pilot and Captain, until his retirement. During his career, Don worked with Braniff International, Piedmont Airlines and USAir. He was a member of First Christian Church, the Air Line Pilots Assoc. International, VFW Post, the American Legion, Braniff Silver Eagles and the USAir Soaring Eagles.
He is preceded in death by his Parents William Henry and Mabel Louise (Arford) Greenfield and brother James Kirk Greenfield. Left to cherish his memories are his beloved wife of 59 years, Shirley Greenfield; daughter Donna Williams and husband Todd; daughter Susan Hall and husband Russell; sister Jeanie Carroll and husband Randy; grandchildren Austin, Garrett, Kaitlyn, Nicholas and Joshua as well as numerous extended loving family and friends.
The family will receive friends between 5:00 and 7:00pm, on Sunday January 12, 2019 at Brown's Memorial Funeral Home, 707 N. MacArthur Blvd in Irving, TX.
A funeral service will be held 2:00pm, Monday, January 13, 2019 also at the funeral home with an interment at Oak Grove Memorial Gardens immediately following. To view or sign click on the Memory Wall https://memorials.brownmem.com/don-greenfield/4072113/obituary.php. The family request memorial donations to the Alzheimer's Association by clicking on ALZ-Care Inc. https://store.heartfeltsympathies.com/tributes/4072113/don-greenfield/hfs/donations/product.php?productId=MTG-8EBEBB6D-3AFF-E411-8251-005056B650AE
Posted 12/30/2019
Captain David Byron Kelley Obituary:
David Byron Kelley, age 82, "has Flown West" and passed peacefully Saturday, December 28, surrounded by family. He was born March 23, 1937, in St. Louis, MO to the late Dr. Gilbert Byron Kelley and Wilma McKee Kelley. He is predeceased by a brother, Kim Kelley.
Dave was the eldest of the Kelley Boys and is survived by brothers Terry Kelley (Mary) of Ledgewood, NJ; Tim Kelley (Donna) of Savannah, MO; Pat Kelley (Nancy) of Lee's Summit, MO; and Kevin Kelley (Karol) of St. Joseph, MO.
He is survived by his wife of 44 years, Jan Edmonds Kelley, and children David Byron Kelley, Jr. (Clara) of NYC; Chris Kelley (Sigrid) of Long Island City, NY; Jennifer Pezzimenti (Luke) of Portland, OR; Heather Holbrook (Kenneth Krawcheck) of Holden Beach, NC; and Molly Cherry (Matt) of Raleigh, NC, and grandchildren Henry, Ciara, Arianna, Jeremy, Jackson, Charles, Annabelle and William, as well as numerous friends, cousins, nieces and nephews.
Dave never tired of telling stories of the many adventures with his family and friends in his hometown of Savannah, MO. He was a helper and a role model throughout his life. An Eagle Scout, he was a member of the BSA Tribe of Mic-O-Say, and a scout master. He earned a Bachelor's degree in Animal Agriculture from the University of Missouri, Columbia and was a member of Beta Theta Pi fraternity. He loved sports including golf, surfing, water skiing, and football (he played for MIZZOU).
He joined the US Air Force, serving as a Captain flying the C-124 Globemaster during the Vietnam War and was stationed at Hickam AF Base in Honolulu, HI. Immediately following his military service, he was hired by Braniff International in 1967 before joining Piedmont Airlines in 1983. Piedmont became USAir and he retired as Captain in 1997. In retirement Dave flew the Cessna Citation as a private jet pilot for three more years.
Dave and Jan moved from High Point NC to Lockwood Folly near Holden Beach in 2002 (about 30 SW of Wilmington, NC).
The funeral service will be held at the Holden Beach Chapel on Friday, January 10 at 1:00 PM. Reception immediately following. Sign the Guestbook
In Dave's honor, donations can be made to the Alzheimer's Association (alz.org) or to the charity of your choice.
Posted 12/25/2019
Captain Herb Dudley Obituary:
Capt. Herbert L. Dudley, 88, of Edinburg, NY made his final flight West, to be with The Lord, on Wednesday, August 28. Herb passed peacefully at home after a very long illness.
He was born January 27, 1931 in Schenectady, NY, the son of George William Dudley and Olive Mae Neverman. He attended Schenectady schools and graduated from Draper High School in 1949.
He was fascinated with planes and flying from early childhood. One day a small plane flew overhead and landed in a field down the road from his then home in Guilderland. He ran to investigate and ended hitching his first plane ride. His path was set, he had to fly. From that moment he would do anything required to advance his aviation career. His flight training was all at local airports, whenever he could earn enough money for an hour or two of flight training.
That career that ranged from cargo flights to Europe to being stationed above the Arctic circle for 6 weeks at a time during the "50's Cold War, delivering supplies for the construction of the Distant Early Warning Line, Executive Flying for GE, then as the youngest pilot ever to fly for GE Flight Test, and finally as a captain for US Airways, retiring after 29 years there.
Herb was a member of the USAir Soaring Eagles, QB's, EAA602, and AOPA. His devotion was to God, Family, Aviation and gardening. He is survived by his loving wife of 65 years, Joan Koch Dudley, his son, David, and cousins, Roy Gilch & Robert Neverman.
In lieu of flowers, contributions may be made to Northampton United Methodist Church, PO Box 455, Broadalbin, NY 12025, Mountain Valley Hospice, 108 Steele Ave., Gloversville, NY 12078, or EAA Young Eagles Foundation. Calling hours were on Wednesday Sept. 4 from 4 to 6 p.m. at the Northville Funeral Service. The funeral was at the Northville Funeral Service at noon on Thursday, Sept.5 with burial at Robinson Cemetery, Edinburg, followed by a reception at the Edinburg Fire House.
Posted 12/18/2019
Captain Jack Semenko Obituary:
John (Jack) F. Semenko
July 6, 1927 ~ December 15, 2019 (age 92)
John F. (Jack) Semenko, born July 6, 1927 in Mt. Pleasant, PA, transitioned into the arms of his Lord surrounded by his family on December 15, 2019. Son of the late Peter and Mary (Molchan) Semenko, Jack was a 1944 Graduate of South Huntingdon High School and attended Penn State for one semester before enlisting in the U.S. Navy in 1945. He served aboard the USS Colonial in the South Pacific during WWII.
Jack's passion was flying, and he had a long and successful career in Pittsburgh as Captain, Pilot Base Manager, Regional Director and, eventually, Chief Pilot of Flying for USAir. He felt very privileged to do something he loved for so many years.
Preceding him in death besides his parents were his son Michael (an Orthodox priest) and sister Dorothy. He is survived by his loving wife, Kathryn, of 71 years, his triplet granddaughters whom he loved dearly, Melissa (Jeffrey) Matrazzo, Stephanie (Kenneth) Lauffer, Kristin (Christopher) Shay, 3 lovely great-granddaughters, Nadine and Tessa Lauffer, and Lily Matrazzo, beloved sister MaryLou (Jack) Ostroski, daughter-in-law Sharon, several much-loved nieces and nephews, and many loyal friends.
He was a member of St. John the Baptist Orthodox Church in Ambridge where he served as board member and president for several years. He was also a member of the USAirways Soaring Eagles, Quiet Birdmen, a lifetime member of the Yukon Volunteer Fire Dept, the V.F.W., American Legion, and the Airline Pilots Association. He faithfully volunteered his time weekly at his much-loved Mcguire Memorial for over 10 years. He was an avid sportsman and made numerous hunting and fishing trips out West and to Canada and Alaska. He was also a member of the Kinzua Fish and Wildlife Conservation Organization. He was loved by many and will be greatly missed.
Visitations will be held on Friday from 2 until time of Parastas at 7:30 P.M. in the John Syka Funeral Home, 833 Kennedy Drive, Ambridge, PA 15003 from where translation of church will take place at 8 P.M. Family and friends are invited to attend a funeral service on Saturday at 10 A.M. in the St. John the Baptist Orthodox Church, 450 Glenwood Drive, Ambridge, with Rev. Father Vincent Dranginis officiating. Interment will follow in the Resurrection Cemetery.
The family would like to thank the wonderful staff at Good Samaritan Hospice Heritage Valley in Beaver for their loving and dedicated care during Jack's final weeks of life, and also his faithful priest, Father Vincent, for his time and devotion.
In lieu of flowers, memorial donations may be made to his home church St. John the Baptist Orthodox Church, Mcguire Memorial Home (2119 Mercer Rd, New Brighton 15066), Good Samaritan Hospice Heritage Valley Beaver Unit (1000 Dutch Ridge Rd 4th floor, Beaver, PA 15009), or a church of your choice.
To send flowers to John (Jack) F. Semenko's family, please visit our floral section.
NOTE: The Funeral service is at 10:00 Am not 11:00 AM as previously posted. Also note that any pilots who can still wear their uniforms are encouraged to do so out of respect for Jack. He'd like that.
Posted 12/17/2019
Captain Jack Semenko Arrangements:
A viewing will be held at John Syka Funeral Home (833 Kennedy Drive, Ambridge PA 15003) on Friday, December 20th from 2pm until 8pm.
A liturgy for burial will be held at St. John's Orthodox Church (450 Glenwood Drive, Ambridge PA 15003) on Saturday, December 21st at
10 am. (note change)
followed by a short, graveside service at Resurrection Catholic Cemetery (100 Resurrection Rd, Coraopolis, PA 15108).
Posted 11/23/2019
Obituary
Charles W Croco, 84, passed away in his sleep on November 18, 2019. He was born at West Penn Hospital in Pittsburgh Pennsylvania, the son of Charles P. and Ruth A. Croco.
Chuck grew up in the Pittsburgh area, he moved to Buffalo with his family and graduated from high school there. He attended Carnegie Mellon University where he received a Bachelor's of Science Degree in Electrical Engineering, followed by a Master's Degree in Industrial Administration. He worked at Westinghouse as an engineer; he learned to fly airplanes in his spare time. In 1966 he was hired by Allegheny Airlines, he enjoyed this career until retiring in 1994 from US Airways where he flew internationally as a Captain on a Boeing 767.
Married for nearly 55 years to his loving wife Carol, they lived happily in Peters Township for 48 years, raised their sons, and traveled the world.
He was a wonderful father to his sons Douglas and his wife Cathy Jo, Jeffrey, Bradley, and Phillip and his wife Brandy. His six grandchildren will always cherish his memory; Laura, Alyssa, Gregory, Mark, Henry and Charlotte.
Visitation
When
Saturday, November 23rd, 2019 10:00am - 12:00pm Service
Location
Beinhauer - Peters Township
Address
2828 Washington Road
McMurray, PA 15317
Posted 10/30/2019
Captain Lester A. Roberts Obituary
Lester A. Roberts, 84, of Carmel, Indiana, passed away October 23, 2019. He was born January 14, 1935, in Hortonville, Indiana, the son of the late Pliny and Velma (Kellam) Roberts. He married Rose M. Gross, from Greentown, Indiana, on July 6, 1957.
Lester graduated from Westfield High School in 1953, proudly at the top of his class. After graduation, he worked at the Marmon-Harrington Company and then Allison Division of General Motors in Indianapolis, as a mechanical draftsman. He attended various civilian correspondence schools, Air Force Pilot/Officer Candidate School and The Industrial War College of the Armed Forces.
Lester was employed for thirty-eight years as an airline pilot from 1957-1995, and flew for Capital Airlines, Lake Central, Allegheny, and US Airways. He flew the world's first four engine airliner, the DC-4. He also flew the world's first turbo-prop airliner, the British Vickers Viscount.
Lester also spent twenty-three years in the U.S. Air Force, Indiana Air National Guard, and the U.S Air Force Reserve, serving from 1953-1976, and retired as a full colonel. Lester joined as an Airman Basic, 113th Fighter Squadron, later advancing to Fighter Squadron Commander in 1971 as a Lt. Colonel. Also worth noting is that he became a "Mach Buster" by flying through the sound barrier in an F-86F at the age of twenty. He even managed to win the unit's Top Gun award in 1972, in the F100. Miraculously, he walked away from two of his three emergency landings in F84s and saved two of the airplanes. Newspaper headlines read, "Guard Pilot Lands with Dead Engines," "Jet's Engine Quits, Pilot Lands Safely," and "Jet Crash Avoided at Air Base."
Colonel Roberts realized that flying was for him while taking flying lessons in Sheridan, Indiana, and piloting his first solo journey. He went on to accumulate over twenty-nine thousand flight hours in airline, military, and civilian aircraft. He purchased and enjoyed flying several private airplanes including a two-seater Piper Vagabond, a Cessna 182, and finally an American Legend Cub. The Cessna made two trips to Alaska, several nonstop flights to Florida, as well as many other places in the United States.
In addition to flying, Lester was a builder, contractor, developer, and landlord. He enjoyed managing investments, including several orange groves in Florida. He enjoyed traveling for pleasure and taking many family trips. They traveled by train in 1977 from Denver to Salt Lake City. They enjoyed a two- week bus tour of several countries in Europe in 1984, numerous spring vacations in Marco Island, Florida and a memorable cruise from Seward, Alaska to Vancouver B.C. He enjoyed outings with friends for breakfast, going to airshows in Las Vegas, attending Warren Buffet's shareholder conference in Omaha, Nebraska, as well as various other adventures with his buddies.
He is survived by his loving wife of 62 years, Rose Roberts; three children, Teresa (Bob) Anderson, Mary (Kurt) Auzins, and Helen (Skip) Roberts-Sorg; three grandsons, Ryan (Kristen Dittus) Anderson, Kyle Anderson, and Graham Sorg; brother, Clifford (Dianna) Roberts; and sister-in-law, Charlene Roberts. He was preceded in passing by a sister, Lenora (Bob) Montgomery; and two brothers, Albert (Mary Lou) Roberts and Chester Roberts.
Visitation will be from 10:00 a.m. -11:00am, with services beginning at 11:00 a.m. Saturday, November 2, 2019, at Flanner Buchanan - Carmel, 325 East Carmel Drive. Online condolences may be shared by visiting flannerbuchanan.com.
Posted 10/30/2019
Captain Richard Pearson Obituary
PEARSON, Richard A. Whose life was full of family, friends, and travel, passed away peacefully at home in Scituate, surrounded by family on October 22, 2019. He was 85 years old. Born July 9, 1934, Richard was raised in Woburn, son of Ludwig and Madeline (MacDonald) Pearson. He is survived by his beloved wife of over 62 years Maureen (Mohan) Pearson, his children Leslie (Marc) Stuart of Ludlow, VT, Richard (Denise) of Natick, Nancy (Gregory) MacIsaac of Scituate, David (Christina) of Rochester, NY, Stephen (Diane) of Larchmont, NY and Andrea (Brett) Bersson of Scituate. Loving Grampy of his fifteen grandchildren, Caroline, Erik, Gregory, Kyle, Christopher, Elizabeth, Anna, Lucas, Lainie, Madeline, Catherine, Ruby, Andrew, Jack and Claire. Also survived by his sister, Lois Pearson and her late husband Stuart Lauber of Glenville, NY, and many nieces and nephews.
Richard graduated from Boston College in 1956. After serving in the U.S. Navy as a Lieutenant Commander, he realized his lifelong dream, flying as a US Airways captain for almost 30 years. Richard raised his family in Melrose, spending years in West Dennis and Naples, FL, and more recently in Scituate to be closer to family. Visiting hours will be held on Wednesday, October 30th from 9 am to 11 am at McNamara-Sparrell Funeral Home, 1 Summer Street, COHASSET, followed by a Funeral Mass at St. Anthony's Church, 10 Summer Street, Cohasset at 11:00 am. Interment is private.
Donations to honor Richard may be made to St. Jude Children's Research Hospital, 501 St. Jude Place, Memphis, TN 38105 or to Scituate Etrusco Associates, 1 Common Street, Scituate, MA 02066. For an online guestbook, please visit www.mcnamara-sparrell.com
Posted 10/30/2019
Captain John Wholley
Obituary
Captain John J. Wholley, 94, of Windham, NH died Monday, October 16th (2017) at Windham Terrace, Windham, NH.
John was born and educated in Lawrence, MA and graduated from Lawrence High School. He served his country in the US Navy during WW II. John graduated from Cornell University in New York. He was a Captain and Chief Pilot at US Airways in Boston, MA. John taught flight school at the Lawrence Airport for many years and owned and operated Merrimack Valley Seaplane Base in Methuen, MA. He enjoyed traveling and walking. He was devoted to his family and he loved his dogs.
John will be sadly missed by his beloved wife, Patricia (Zukofski) Wholley of Windham, NH; his stepchildren, Nancy Drago and husband Jack of Boxford, MA and Corey Martell and wife Caroline of Haverhill, MA; his grandchildren, Robert and Courtney Martell and Nicholas and John Drago; his great granddaughter, Rylee Martell; his niece, Diane Wholley of PA and his furry friend, Tubby.
He was predeceased by his stepson, Robert Martell.
Services will be private for the family. The Douglas & Johnson Funeral Home, 214 Main St., Salem, NH is assisting the family with the arrangements.
In lieu of flowers, donations in John's name may be sent to: Merrimack Valley Feline Rescue, 63 Elm St., Salisbury, MA 01952.
Posted 10/9/2019
Captain William Tracy Obituary
William Tracy of Sarasota Florida, passed away on October 3, 2019. Beloved husband, of Jacqueline Tracy, father of Gary and Terry Tracy, grandfather of Connor and Brooke Fitzgerald. Bill was a veteran in the United States Marine Corps during the Korean War. Captain Bill Tracy spent 25 years as an airline pilot with USAir/American Airlines retiring from Washington, DC to the Sarasota area. Bill was a avid car collector and business man specializing in restoring Jaguars, Ferrari's and other exotics. He manufactured and imported/exported jaguar parts for over 50 years. He will be dearly missed.
Posted 10/1/2019
Captain Bill Patchett Obituary
William Thomas Patchett, Sr., passed away on Friday, September 27, 2019, at the age of 83. He was a remarkable man who loved life and loved his dear family; Eileen, his wife of 63 years; his five children, William T. Patchett, Jr. and Vera of Warrenton, Jane Coppage of Goldvein, VA, James J. Patchett and Mary Sue of Brentwood, TN, Crickett Henry and Hugh of China, and Linda M. Minter of Rock Hill, SC; and his brother, Donald Patchett and Robin of Colbert, WA. He leaves a beautiful legacy of 16 grandchildren and 10 great-grandchildren. He was preceded in death by his parents, William and Angela Patchett, his brother, David Patchett, and his son-in-law, JC Minter, Jr.
Bill had a love for aviation from the time he was a young boy, riding his bicycle for many miles to the airport to wash small airplanes in the hopes that a pilot would give him a ride. He worked toward his dream as an aircraft mechanic with the Air National Guard. He later flew small aircraft, hauled freight and did all he could to build up his flying time with the goal of being a commercial airline pilot. Finally in 1964, his dream was realized when he was hired with Mohawk Airlines, which later became Allegheny Airlines; and his career culminated as captain with USAir. In addition to his flying career, Bill further enjoyed building and restoring airplanes, and he loved flying his PT-19 in the Flying Circus in Bealton, VA. Almost as much as he loved flying, he enjoyed rounds of golf with friends and riding on his Harley, including the annual Ride to the Wall. He volunteered his time and expertise in restoring computers for Haiti, as well as volunteering at Old Busthead. Throughout his life, Bill remained a man committed to his faith, a member of St. John's in Warrenton, VA, for 48 years, and served with the Knights of Columbus. His family is eternally grateful and forever the better because of this man in their lives. He will be greatly missed.
A Mass of Christian Burial will be held at St. John's Catholic Church, 271 Winchester Street, on Wednesday, October 2, at 11:00am, followed by a luncheon in the Parish Hall at noon. In lieu of flowers, please make a donation to a charity of your choice.
To plant a beautiful memorial tree in memory of William T. 'Bill' Patchett, Sr., please visit our Tribute Store.
Posted 9/29/2019
Capt. Bill Patchett passed away early September 28, 2019 after spending a lengthy time at Fairfax Hospital fighting a rare blood bacterial infection.
No more details at this time. We will post further details as soon as we receive them.
Bill Patchett
7261 Baldwin Ridge Rd.
Warrenton Va 20187
Posted 9/20/2019
I am saddened by the passing of Charlie. He was never without a smile and a pleasure to be with. Charlie was happy and he made you happy. Charlie and I shared one fact at Mohawk. We were the shortest pilots hired. He was 5' 5 1/2' and I was 5' 5". He will be missed by all his friends and they are many. Rest my friend.
Eric Litt
Posted 9/19/2019
Flown West - Captain Charlie Boivin
Captain Charlie Boivin Flew West July 5, 2019.
Obituary of Charles Boivin
Charles F. Boivin 1924 - 2019
Charles F. Boivin, 94 of Deansboro, NY, formerly of Florida, passed away Friday, July 5, 2019 at St. Elizabeth Medical Center, Utica, after a brief illness.
Charlie was born November 14, 1924, in Schuylerville, NY, the son of Frederick and Rose (LaPier) Boivin. He was raised and educated in Schuylerville. Charlie went on to serve with the US Army during World War II, and then transferred to the Army Air Corps. On December 5, 1948, Charles married Elizabeth "Betty" Duross, the love of his life for 58 years, in Glens Falls, NY. Betty, who lovingly would call him "Buster", passed away in 2006.
After his service, Charlie became a commercial airline pilot, first working for Mohawk Airlines in Oneida and later for USAir, based in Pittsburgh, PA, retiring as a Captain in 1984. He was a member of the American Legion Post #120, Holly Hill, FL; of the Elks Lodge #2193, Ormond Beach, FL. He flew a commemorative Air Force Aircraft T-34 at the age of 92 - a milestone for him personally as well as for the US Airforce. Charles also received the Wright Brothers Professional Pilot Award for 50 plus years of safe flying.
Charles is survived by four sons and three daughters-in-law, Charles, Jr. and Melanie Boivin, PA, Sherman Boivin, FL, Gregory and Robin Boivin, Deansboro, Daryl and Paula Boivin, PA; grandchildren, Tanya Boivin, Gregory C. (and Julie) Boivin, Charles III (and Michele) Boivin, Stafford (and Kelly) Boivin, Becky Boivin, Eva (and Anthony) Rodriguez, Jobe Boivin, Tia Rose Boivin, Thomas Boivin, Brandi Lee Boivin; as well as many great-grandchildren. Charlie also leaves two special nieces, Renee Honey and Jennifer Wojciechowski. Besides his wife, he is predeceased by a brother, Paul Boivin.
Funeral Services, entrusted to R.P. Heintz Funeral Service, Inc., 10 East Park Row, Clinton, were held privately at the convenience of the family. Interment took place privately in Saratoga National Cemetery.
Those wishing may donate to the Helmuth-Ingall's American Legion Post #232, Franklin Springs in Charlie's memory. The family would like to thank the doctors, nurses, and staff of the 3rd floor at St. Elizabeth Medical Center for the excellent care and compassion shown to Charlie and his family during his stay. Also a special thank you to Shiela Pattisan and Sara O'Dell.
Edited 9/9/2019
Flown West - Captain Dan Friel
Captain Dan Friel, Soaring Eagles Vice President, Flew West September 5, 2019.
The Loving Funeral Home of Covington, Va. is handling the arrangements.
A Graveside service will be held on:
Saturday 14 September at 2PM
Falling Springs Presbyterian Church
115 Spring Church Rd
Hot Springs, Virginia 24445
Barbara plans to set up a Memorial Service for the local Northern Virginia area at a later date.
Cards of condolence may be sent to:
Barbara Pressley
309 Chestnut Street
Falls Church, Va. 22046
Dan's brother >
Allen Friel >
P.O. Box 430 >
Hartwood, Va. 22471 >
In lieu of flowers contributions can be made to the Falling Springs Presbyterian Church listed above..
Posted 8/11/2019
Flown West - Captain Earl Bates
The following was received from Bill KIngston & Larry Channing:
Captain Earl Bates has Flown West. Earl passed away on Friday August 9, 2019 after battling lung cancer. Earl's full obituary was not available when this message was posted. Funeral arrangements for Earl Bates will be at Chapman, Cole, and Gleason, Rte 151, Mashpee: - Wake Wed, 8/14, 4-7, Service 8/15, 11-12, including military honors. Reception will follow on Thursday, 8/15, 12:30, at Wimpy's, Main St, in Osterville. No cemetery because Earl is being cremated. More information when it becomes available.
Posted 8/4/2019
Flown West - Captain Earl L Stone
CANFIELD, OHIO - Earl L. Stone, 85, passed away Aug. 2, 2019, at his home surrounded by his family. He was born Oct. 29, 1933, in Corinth, Ky., the son of the late Audrey L. and Marie (Carter) Stone.
Earl was a veteran of the U.S. Air Force, serving during the Vietnam War (Cuban Crisis). He attended two years at the University of Kentucky. He was triple-rated in A.F. as navigator, radar-observer and pilot. Earl was a pilot (captain) for USAirways for 30 years, retiring in 1993. He was a loving husband, father, grandfather, great-grandfather and friend. Earl enjoyed his golf games at Salem Golf Club, where he had three "holes in one." He was an avid pilot and taught in the simulator for U.S. Airways for 10 years and flew light aircraft during his retirement.
Survivors include his wife, Grace (Lonis) Stone, whom he married March 8, 1958; a son, Steven C. (Vicki) Stone of Salem; two daughters, Cheryl M. (Kenneth) Beall of Newport Beach, Calif., and Susan (Ted) VanAnne of Georgetown, Texas; eight grandchildren; and six great-grandchildren.
Besides his parents, three brothers, Donald E. Stone, William G. Stone and Howard A. Stone, also preceded him in death.
A funeral service will be held at noon on Friday, Aug. 9, 2019, at the Stark Memorial Funeral Home in Salem. Calling hours will be held from 11 a.m. to noon on Friday at the funeral home.
Military honors will be provided by Salem Honor Guard after the service. Burial will be at Hope Cemetery, with military honors provided by Salem Honor Guard.
The family would like to thank Hospice of the Valley for their compassionate care.
Please visit
www.starkmemorial.com
to view Earl's obituary and to send condolences online.
Posted 6/18/2019
A friend passes on:
Lydia Bulach died April 29, 2019
Cards may be sent to:
The Lydia Bulach Family
Trauberstrasse 16
Stuttgart 70186, Germany
Lydia was a Flight Attendant hired by Mohawk in 1965.
Apologies for the delay in posting this information.
Posted 6/5/2019
Flown West
Rick Osborne 1949-2019
Richard Thomas "Rick" Osborne passed away in his sleep early on May 9, 2019 at home in Cornelius, NC after a long battle with cholangiocarcinoma (bile duct cancer). He was just three weeks shy of his 70th birthday. Rick's remains will be cremated, and a celebration of his life will be held at his home.
Rick was an Air Force brat, born in Washington, DC. He was an Eagle Scout and a 1971 graduate of the United States Air Force Academy. In the Air Force, he piloted the C-141 "Starlifter" from Charleston AFB, South Carolina. After leaving the Air Force he became a commercial airline pilot, first with Braniff International in San Antonio, Texas, then with USAirways in Charlotte, North Carolina. He retired from USAirways in 2014 to enjoy life with his friends and family on Lake Norman and shooting at the Mecklenburg Wildlife Club.
Rick was preceded in death by his father, Col. Thomas F. Osborne, USAF, and his mother, Mary R. "Fritz" Osborne. He is survived by his longtime partner Shirli de Saye, his brother Bill Osborne (Pat), his nephew Colin Osborne, and his niece Elizabeth Pina (Anthony).
To view or sign, click on Rick's Tribute Wall. In lieu of flowers the family requests donations in Rick's memory to the Cholangiocarcinoma Foundation.
Posted 6/2/2019
Flown West
Ronald Harold Metzger, born August 24, 1929, in Lancaster, Ohio, died May 28, 2019 in North Venice Florida. He was surrounded by his loving family. He graduated from Lancaster High School in 1947 and from Cal-Aero Tech in 1948.
Ron received his private pilot's license at the age of 16 at the Lancaster Airport. He was employed by Anchor Hocking as a co-pilot and mechanic on their corporate airplane. He went on to attend Ohio State University and to be hired by Lake Central Airlines flying co-pilot on a DC-3. That company became Allegheny Airlines, then USAir. Ron went on to fly DC-9's, Boeing 727's and Boeing 737's serving as a captain for 28 years.
Ron is survived by his wife Doris Schmidt Metzger, his 3 children Ronald A. (Pam), Lynda Nabors (Rick), Michael W. (Pam), nine grandchildren, and 2 great grandchildren. Ron was preceded in death by his son Steven and his twin brother Donald. No services are planned at this time.
Although Ron enjoyed tennis and golf, his real passion was flying. His wife Doris reports that Ron said, " I never went to work"
Cards of condolence may be sent to:
Doris Metzger
133 Bella Terrace
Unit B
Venice Fl. 34725
In lieu of flowers , contributions may be made to:
Tidewell Hospice
5955 Rand Blvd.
Sarasota Fl. 34238
Be sure to note memory of Captain Ron Metzger
Posted 5/30/2019
Flown West
The following is per Janet Grieco.
Captain Anthony D (Dave) Grieco passed away peacefully May 28 at his home in Imperial, PA. Dave had been suffering from heart failure (something that ran in his family) and for some time just refused to give up.
Per David's wishes, there will not be a funeral or memorial service. He will be buried in the local non-denominational cemetery just five minutes from his home.
Posted 5/28/2019
Flown West
Judy Schmidt advises that Captain Ron Metzger, and Captain Dave Grieco both flew their last flights today. When more details are available they will be posted here.
Posted 5/20/2019
Flown West.
Eugene "Red" Leazenby
April 10, 1929 - May 18, 2019
Eugene (Red) Leazenby, 1929-2019, was born on April 10, 90 years ago to Martin and Agnes Leazenby in Clymers, IN and passed away May 18 in Indianapolis, IN. He was a loving husband to his wife, Dolores, for 49 years. She preceeded him in death as did his brother, Don, and his sons Bruce and Kurt. He is survived by his sons, Mark (Melody) and Brian (Brenda) Leazenby and daughter, Laura Tsareff, six grandchildren and nine great grandchildren.
Red was an Air Force veteran and a commercial airline pilot for 37 years with USAirways. Red was silly, fun and enjoyed being happy. He was a lucky guy that loved his job and traveling all over the world. In retirement he looked forward to connecting with old colleagues at Soaring Eagles and Lake Central Airline reunions. He and Dolores lived and raised their family in San Antonio, TX, Lima, OH and Pittsburgh, PA and in retirement he lived in Indiana and Florida. Red loved to spend time with his family and many friends, often with a martini in hand, and was an avid golfer and fisherman. Maybe at times the world wasn't ready for Red's arrival and his opinions, but he was always entertaining. He was a terrific storyteller and was amazed at the changes in the world and technology occurring in his lifetime and told many young people he couldn't imagine what things they would see in their lifetime.
Red most recently was a resident of Worthington Place in Camby, IN.
The family wishes to thank the staff for his care as he dealt with the effects of Alzheimer's disease. Red's life will be celebrated with a visitation on May 23, 2019 from 11:00 a.m. until the time of service at 1:00 p.m. at Simplicity Funeral and Cremation, 7520 Madison Ave., Indianapolis, IN. 46227.
In lieu of flowers, please consider a donation to the Alzheimer's Association, 225 N. Michigan Ave., Fl. 17, Chicago, IL. 60601.
Posted 4/25/2019
Flown West.
Edgar H. R. "Bob" Beaupre, 81, of Deerfield Beach, Florida passed away peacefully on April 23, 2019.
Bob was born in Ottawa, Canada on June 26, 1937 to Ted and Irene Beaupre. Bob served 10 years in the Royal Canadian Air Force, then moved to Rome, NY to begin his career as a commercial airline pilot. He retired after 33 years as a Captain with USAirways flying his final flight to Paris, France. Bob loved hockey, the outdoors, especially the ocean, boating, and deep sea fishing. Bob also enjoyed showing his Rottweilers in AKC shows over 30 years. He was a member of the BPO Elks for 25+ years and currently of the Boca Raton Elks Lodge #2166.
Bob was predeceased by his Father Ted and brother Leonard Keith Beaupre. He is survived by his 100 year old Mother Irene, his wife of 41 years, Judy (Bell) Beaupre, daughters Lori Bronson (Steve), Karen Schmitt (Greg), five grandchildren: Lindsay (Shanin) , Stephan (Cybille) , Tyler (Molly), Meagan, Kyle, four great grandchildren: Shane, Blake, Ayla, Nathan, several nieces, nephews, and cousins.
A Celebration of Life will be held at a later date.
In lieu of flowers, the family requests donations to the Alzheimer's Association for Research.
Posted 4/16/2019
Flown West.
Dear Joe,
It is with a very heavy heart that I report that my long time friend of 64 years, my Brother in Law and Retired Captain Russel N. Gries boarded his last flight Arrangements are incomplete at this time and will be sent when they become available. Condolences may be sent to his Daughter Nicole Rabner 1059 Beachwood Blvd. Pittsburgh, Pa. 15206.
Respectfully
Jay Gelm Ret..